LDA has undertaken underwater, coastal, littoral and intra-riverine surveys, evaluations, monitoring and excavations at locations around the entire coastline of Ireland. These projects vary in diversity and scale from foreshore assessments relating to small extensions to jetties or aquaculture projects to large scale pipeline and inter-connector projects, coastal defence and channel deepening, dive surveys and shipwreck excavation.
We also provide specialist wet storage and conservation of artefacts recovered from underwater environments.
We have a strategic working relationship with York Archaeological Trust who have been involved with a number of  terrestrial and underwater projects.
Coastal and Underwater services :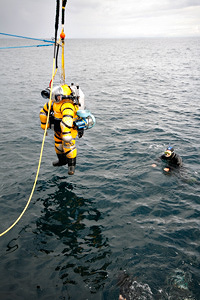 Monitoring
Licensed dive surveys
Metal detection surveys
Wading surveys
Test excavation
Full excavation
Shipwreck excavation
Analysis and conservation of artefacts
Storage of artefacts and ship's timbers
Coastal cultural tours